Steamboat Stompers Dixieland Band

download>>

Propagationslichtbilder und Logo der Band

(ZIP / JPEG, 245 KB)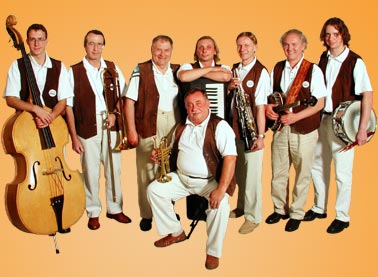 STEAMBOAT STOMPERS Jazz Band was started back in 1968 by a group of young musicians with interest in interpretation of Traditional American Music. Starting with well known New Orleans tunes our band progressed over the many years to a large repertoire of lesser known compositions and jazz standards. During the first couple of decades under communist regime jazz was officially considered a decadent American music. Our band played then underground mainly in small student clubs. With the progressively liberated political climate of eighties STEAMBOAT STOMPERS music was played on radio and television stations and band started recording regularly LP records with the state own recording company SUPRAPHON.
The large number of STEAMBOAT STOMPERS LP records, audio tapes and compact disks speaks about the broad repertoire of the band. Range of jazz, this well known band plays, goes all the way from traditional Dixieland, vintage classic jazz, swing all the way to modern jazz standards such as The Girl From Ipanema. If you put in on a calendar STEAMBOAT STOMPERS play jazz music composed from early 1900 through the sixties. Each musician of the band is a virtuoso on his instrument with breathtaking improvisation solos. Few members are Prague Musical Conservatory graduates.
Since the fall of communism in 1989 STEAMBOAT STOMPERS Jazz Band is very popular sought after band at all major Jazz Festivals in both Western and Eastern Europe. The name of the band came about, because for many years till today, this band plays during summer months on the old paddle wheelers cruising up and down the river Vltava which flows leisurely through the middle of historic Prague center. Years ago many of these paddle wheelers were still steam operated and the fuel was coal abundant in Czech republic. There are quite a few younger members, who joined the band in recent years while the old-timers retired. The only remaining original musician is the founder and band leader Ing. Jiri KADLUS. STEAMBOAT STOMPERS with their colorful history and excellent jazz interpretation will get you of your feet, wherever they happen to play.